As the year ends, it's become tradition for bloggers to give one last shout-out to their favorite things in "best of" or "my favorites" lists. There's already a million posts like that, so last year I listed my least favorite gaming product purchases. That list was well received (except for a few members of the Coadu Nation cooperative, who felt I just didn't "get" their product, and the lead designer for Steel Town Girls who threatened to make me eat my own dice bag) and since I ended up purchasing enough products this year to make a list meaningful, I decided to do it again for 2015.
As with last year, there is no intent to mock the entries on this list. This is merely a list of products, all published and purchased in 2015 (with one exception), which failed to live up to my expectations.
I hope you are entertained and/or save a little money.
1. LUCA - The Last Universal Common Ancestor
By Past Zahlopni Games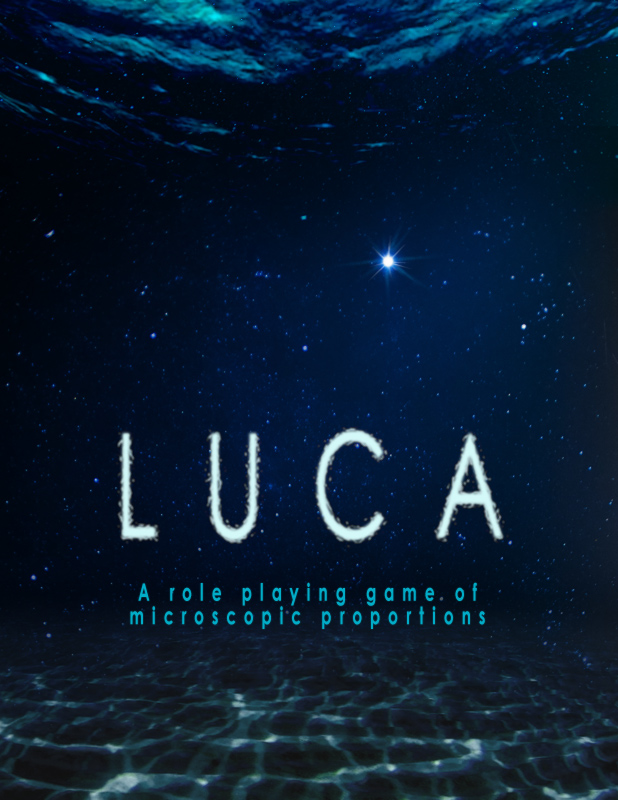 click to zoom
If you follow gaming blogs or gaming trend-setters on social media, you might have gotten the impression that LUCA is one of the greatest games ever created. Its mechanics for creating unique microbes with unusual numbers of flagella are often compared to the timeline building of Microscope. The social bonding aspects of LUCA - a game where, to have a character to begin with, you must literally split from another player's character and begin as their exact duplicate - have been praised as unique among RPGs.
What the game's fans fail to mention is that microbe creation is the only part where player input actually affects the game. Most game play is just the rote chores necessary to keep your character alive. Yes, the first time you roll for chemiosmosis is magical, but it soon becomes part of a repetitive drive to survival. It's a the dice-and-paper equivalent of MMO grinding, and the more you succeed, the longer you have to keep doing it. In fact, once you grasp the game's catalyzation mechanics, your session can last indefinitely (there's no built in timer mechanic to end the game).
Replay value is even worse as experienced players will have a substantial advantage when playing with new players.
I give LUCA one mutation out of a possible 5. It's a great concept, but play value is microscopic.
2. Schläfli Three Dungeons
by Toby's Tactics & Tools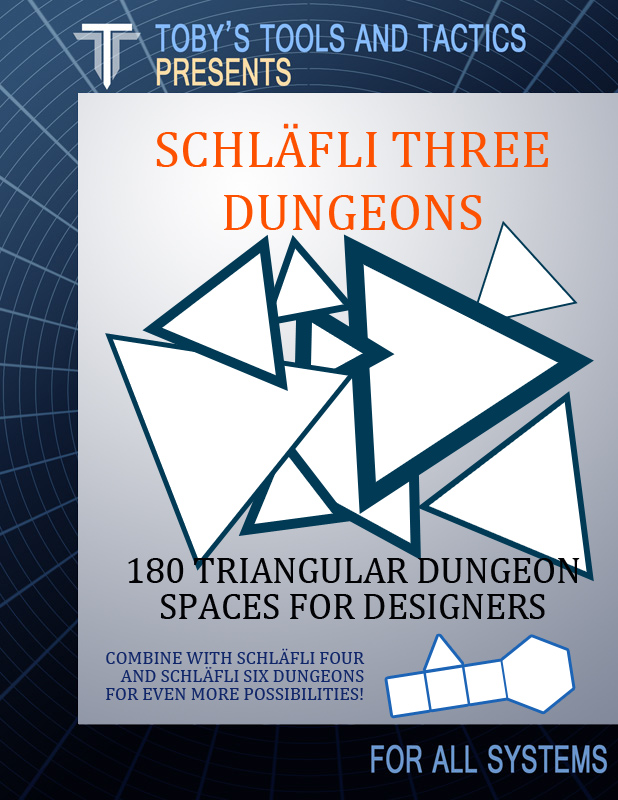 click to zoom
I flatter myself by thinking TTT might have read my review last year of Schläfli Six Dungeons and taken my criticisms to heart. Earlier this year TTT came back with Schläfli Three Dungeons, a group of three-sided shapes for dungeon building - addressing one of my concerns.
As with the other Schläfli products, the three-sided shapes of Schläfli Three are presented in several sizes and border thicknesses, making them easy to place in most graphics programs with minimal work. (This year, TTT added WebP to the already included SVG, PNG, and TIF formats in all of their Dungeons sets, making it even easier to design dungeons for the web and Android devices).
The instructions recommend combining the three-sided shapes to make dungeon rooms with odd numbers of sides. I practice, however, I found this difficult to do. Stacking two three-sided room pieces together only makes a square with a slash across it. My first attempt at a 5-sided dungeon room ended up with a spikey star pit in the middle. Not what I was wanting for my dungeon.
TTT's Schläfli Four Dungeons still dominates the pre-generated dungeon room market for good reason. Four-sided shapes are great for old-school dungeon maps. Schläfli Three Dungeons is a step backwards in usability.
I give Schläfli Three one Pointland out of a possible five.
3. FATE-MAN
by Playfair & Williams Games
click to zoom
I am concerned when non-free gaming products co-opt clearly owned characters and artwork - not only for the copyright issues involved, but also because those types of theft rarely result in a product true to the property in question.
Here, for example, Playfair & Williams have created a Pac-Man themed game using FATE as its backbone. The game is not based the arcade game but rather on Pac-Man, the 1980s animated series, and includes setting elements from Pac-Land, the sequel arcade game.
A modified FATE base is the same trick Playfair & Williams used with Right Turn, Clyde, their first (and better) game about 1970s underground bare-knuckles fighters where the party are required to have at least one character who is an orangutan. Here, however, the decision to use FATE is a hindrance. Players are forced to pick from a limited number of pre-created aspects and skills, mostly color options and things like "Super" or "Summon Chomp Chomp". The inclusion of the Pac-Land material results in a game more often about collecting fairies in Fairyland than about the problems found in the Pac-World.
I give FATE-MAN one power pellet out of a possible five. The game manages to avoid any interesting aspect of playing as a Pac-Person.
4. Sex & Pathfinder
by Phil Dixie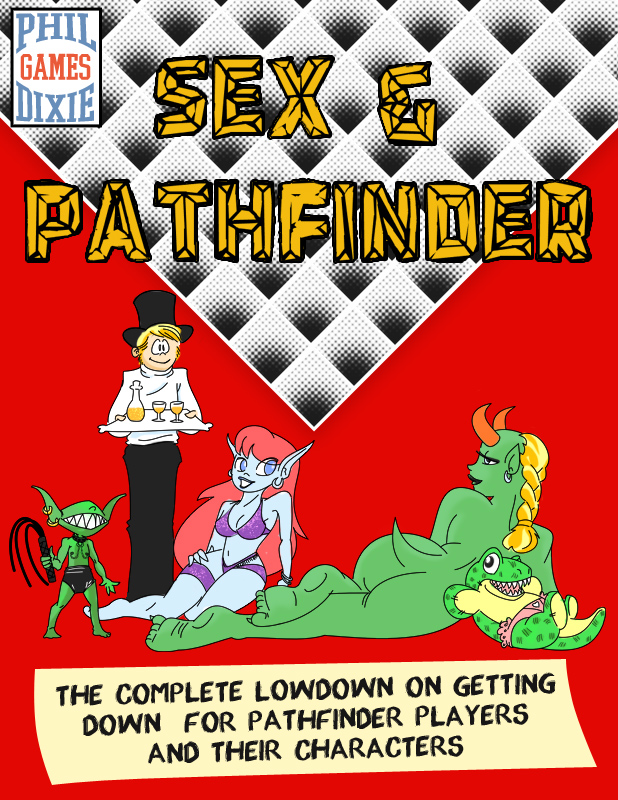 click to zoom
Fantasy role playing is the perfect medium for an allegorical, if frank, discussion on sexual identity roles and politics. As one of the largest fantasy role playing properties, the Pathfinder campaign setting is a natural fit to serve as a backdrop to the conversation. The multitude of intelligent species and the ability to magically transform gender and appearance provides an easy opening to explore topics of taboo, gender identity, sexual minorities, and all aspects of sexual development - not just among humans, but also using fay and demi-human races to explore identity as other.
Unfortunately, this book does not have that kind of depth. This book is all about the mechanics of sexual activity in the Pathfinder Campaign Setting.
With charts and tables.
And new talents and feats.
I give Sex & Pathfinder one social responsibility out of a possible 12.
5. Shrimpy Dungeons
by Defiled Oblivion Game Studio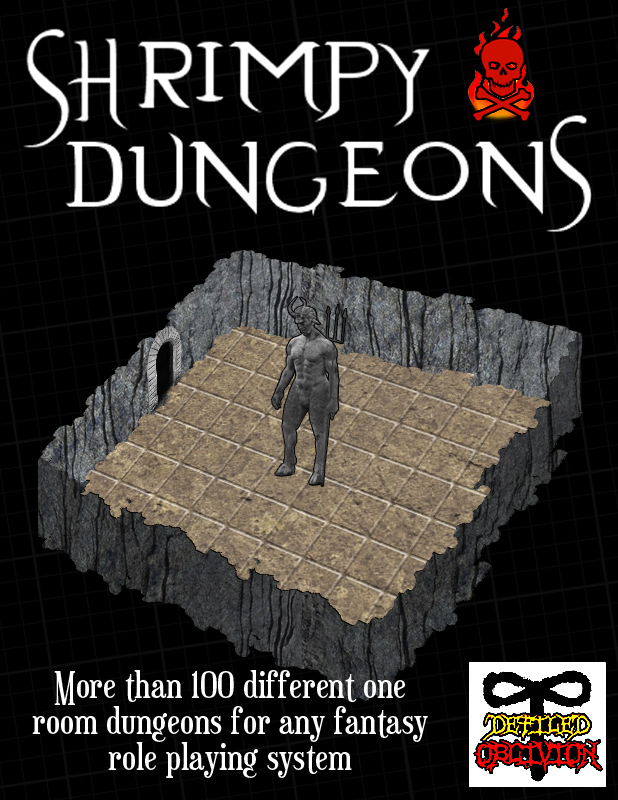 click to zoom
In theory, Shrimpy Dungeons is the type of product that should hold a permanent place in every GM's arsenal of prep tools. Modestly priced at $2.99, this book contains more than one-hundred and thirty different self-contained, one-room dungeons. Unfortunately, none offers enough to occupy a group for an entire session.
When playing The Crystal Latch (page 34), my group found the crystal almost immediately - "hidden" in the only chest in the room. They easily walked across the room, placed the crystal in the latch, and opened the escape portal. With The Goblin's Grin (page 79) they spent just a few minutes dropping random items in the mouth of the giant goblin face sculpture before one brave party member decided to go in themselves. Once they knew that the hole was not only safe but was the exit to the dungeon, the scenario was over.
Throwing a Shrimpy Dungeon at the party will buy an ill-prepared GM time to gather their notes and make up something to do that session, but even with a group of seasoned role players, the type who explore every corner, don't expect more than 10 minutes or so.
I give Shrimpy Dungeons one armadillephant out of a possible 5.
6. Seiteki Kaiju Katsugeki
DaiDai Toy Group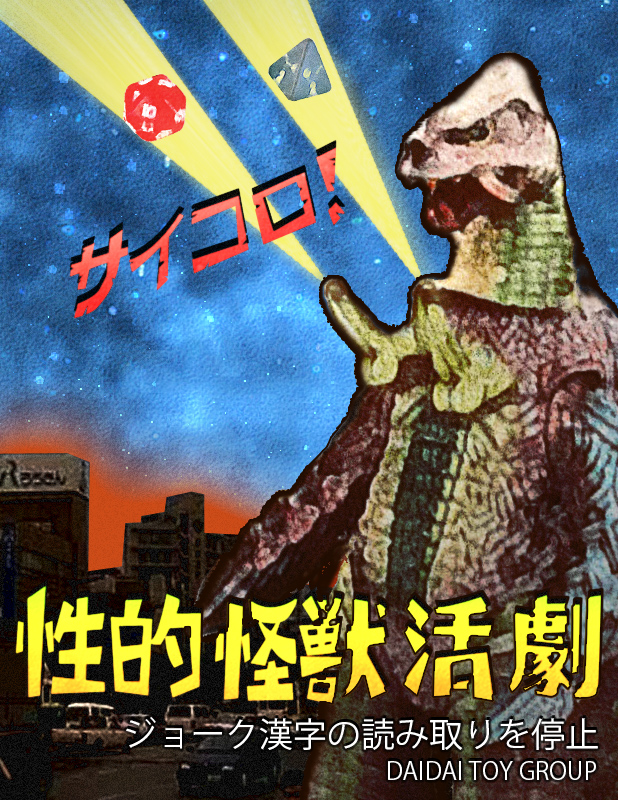 click to zoom
While I do not own a Seiteki Kaiju Katsugeki dice tower, I did use one during a pickup game of Otokonoko Bansho Club run by Warren Mannor at DenaliCon this year. After character creation, Warren had his Seiteki Kaiju Katsugeki dice tower brought in and lifted onto the table, saying we'd be required to use it to make all of our in-game rolls. (side note - I enjoyed playing Otokonoko Bansho Club, a game about cross-dressing mathletes at an interdimensional high school, very much and I I look forward to the English Translation's official release later in 2016).
At almost five feet tall, Seiteki Kaiju's motorized animations and kaiju sounds are impressive. There was some giggling at the motorized penis nipples, and more than one player expected to be bitten when dropping their dice in its mouth (the mouth is not animated, it does not bite).
Unlike traditional dice towers, where your dice exit the Seiteki Kaiju tower is as important to your roll as the numbers on the dice. That's actually where I started to run into problems. If, like me, your entire grasp of Japanese culture is based on Maison Ikkoku you'll have a hard time understanding the confusing and sometimes contradictory outcomes Seiteki Kaiju generates. On one roll, my dice came out of the kaiju's knee - that result, a success accomplished in a shameful manner, had to be incorporated into my character's turn. It would've been helpful if I were clearer on why that was my result (my character, Tadao-chan, dropped his chalk while solving his math equation, but he accidentally flashed the judges his panties while picking it up).
I liked Otokonoko Bansho Club very much, but the Seiteki Kaiju Katsugeki as a bit much for me to get my head around without having a grasp of the culture involved. As it stands, my lack of knowledge about the intricacies of Japanese social norms was a definite handicap.
I give the Seiteki Kaiju Katsugeki one honban out of a possible five. It's for a pretty niche audience outside of Japan.
7. The Monstrous Book of Radioactive Mutations
Nearly New Ideas
click to zoom
I regularly flip through my third printing Gamma World rule book when making super villains and space monsters, and I have more than 100 contributions in the rec.games.frp Net Book of Mutations. Mutants are in my wheelhouse, so I leapt at the Kickstarter for this book.
The Monstrous Book of Radioactive Mutations is a well-researched, exhaustive book, which makes giving it a negative review somewhat painful. Where many collections of mutations limit themselves to those directly affecting character abilities, The Monstrous Book examines all types of potential radioactive exposure from multiple trope settings and sci-fi worlds. That kind of exhaustive list actually becomes a hindrance when you're trying to craft a character to play. Anencephaly and microcephaly might be fine mutations for creating an interesting character who has been exposed to radiation or is descended from someone who has, but thyroid cancer provides few role-playing options. And many of the other mutations listed actually kill the character - if not immediately than shortly after exposure.
I give The Monstrous Book of Radioactive Mutations one free radical out of a possible five. The depth and breadth of the material included is just too much for use in a roleplaying game, but if you're interested in radioactive mutations as a scientific subject then this is the book to have.
8. TedPC
by Smug Thug Productions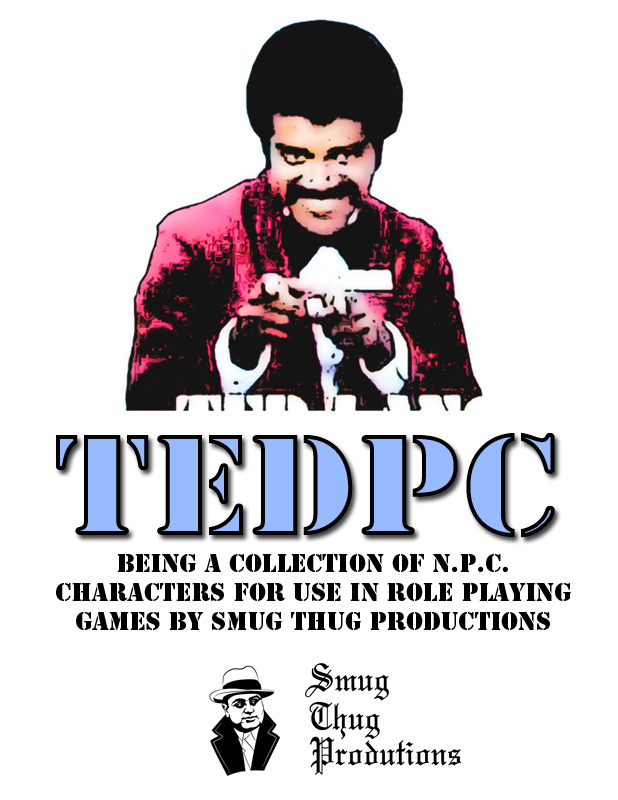 click to zoom
TedPC might be a clever idea, but the 15 NPCs presented in this book - each based on a character portrayed by actor Ted Lang - are too rooted in their movie and television origins to be useful in your own games without requiring a good deal of modification.
Each character "bio" includes a short story meant to place the character in a common fantasy or sci-fi setting, but the volume of broken fourth walls makes those attempts feel more like sarcasm than actual modification. The opening NPC is based on Junior, Lang's lady's man character from That's My Mama. The included fiction places the character in a traditional fantasy roadhouse, serving as a sort of informant for the party, prefacing each tidbit with "I got it! And I got to report it!" takes the character out of the fantasy setting he's intended to inhabit.
Which takes me to my real complaint about TedPC - most of ... well, all of the NPCs presented here are bartender-types. While some have been placed in that role by the author many were originally written that way, such as the unnamed bartender Lang portrayed in Gang of Roses or Isaac Washington, the bartender on Love Boat. In fact, of the 15 NPCs presented here, seven are bartenders based on various incarnations of Isaac.
I give TedPC one Isaac out of a possible 20. The book is a good springboard from which to work a Ted Lang character into your game, but it lacks enough of a breadth of characters to make it useful long term.
9. The Sewers of Klanthra
Xylophone Ribs
click to zoom
The Sewers of Klanthra is not an official Klanthra product and has not been approved by Alan Whickers. But since it covers an area of the City of Paladins we've never seen before, it's an interesting supplemental to the official material published by Jacksie Playtime.
The book takes a detailed look at the city's waste water conduit systems, providing statistics on hundreds of culverts, catch basins, caps, sump pits, and pump stations. Most of the content, however, is tunnel maps. In fact, if Sewers is to be believed, the city of Klanthra has three or four times as many miles of sewers as it does streets. And while each map includes tunnel diameters and flow capacity, the maps are presented in such a haphazard fashion that it's impossible to tie sewer locations to the city landmarks they travel under.
There's a clear value to knowing exactly what a character would see if they drop something into a drain and have to climb down after it, but the way the material is presented here makes it almost impossible to make that visit meaningful instead of tedious.
I give The Sewers of Klanthra one manhole out of a possible five.
10. The Magical Children of England
by Risinghurst Games, written by James Covent Garden
click to zoom
I grew up as a role-player with do-it-all universal roleplaying systems that allowed players to adventure in any setting they could think of. A quick glance at the current popular gaming titles is enough to show that those days are long gone. These days, games are hyper-focused on particular scenarios intended to give players a social scenario far out of their own experiences.
The Magical Children of England is one of these social scenario type games. Players take on the roles of British children fleeing from German bombers to a family estate in the country where, via the game's collaborative storytelling mechanics, they stumble into a brand new land filled with talking animals, magical beings, and wondrous vistas. And then, through their birthright as upper class British citizens, sometimes with the help of a powerful mythical being, they establish themselves as absolute monarchs over the lesser beings.
As with most social scenario games, I found the value assigned to it by its defenders to be assumed at best. I myself have never been an upper class British child living on vast country estate with an understood birthright to power, nor do I know any from which I can glean some knowledge of what it's like to walk in their slippers and pajamas. Consequently, I have no idea if my time playing this game really represents their life experiences. Do I have a new sympathetic understanding of kids saddled with an inherited obligation to rule? Or was I simply exploring assumptions shared by the other players, all of us merely guessing at what it's like to be those kids and pretending that equals understanding?
I give this one talking lion out of a possible five. I don't feel I've achieved any of the understanding the game's designer clearly hoped to transmit to those of us who are not, and never will be, upper class British children ruling over fauns and talking animals.