I made a new GM screen! I based my screen build on Tim Snider's design, with a few tweaks.
My well-worn D&D 3 screen finally gave up the ghost a couple weeks ago and split right up the middle. I needed a replacement. After looking at the options out there, I decided I didn't want a branded screen, but the custom screens were just way too expensive for what they were. I was almost sold on a menu holder (thanks Reddit for that suggestion!), but then I found Tim's design. It was almost what I exactly wanted, so I set about making it - with a few sloppy tweaks.
1. I got my hands on a couple of cheap (ie. free) one inch binders and set to work. One of the binders had wrinkly front plastic, more on that later. I sliced the covers off of the three-ring clip as per Tim's instructions above (make sure you don't go completely off the crimp part or your cover will split) so that I ended up with 4 covers - 2 with bevels left, 2 with bevels right. I decided the two best looking covers would go in the middle, facing the players, with the bevels in the middle. The uglier covers would go on the sides.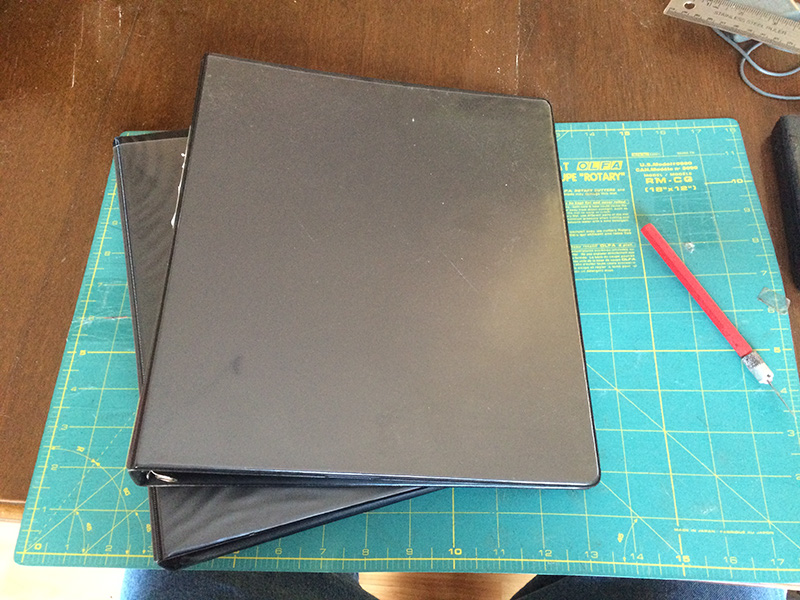 .
2. Then I set about freeing the little cardboard shim from behind one of the 3-ring clips as that would provide the "spine" of my screen.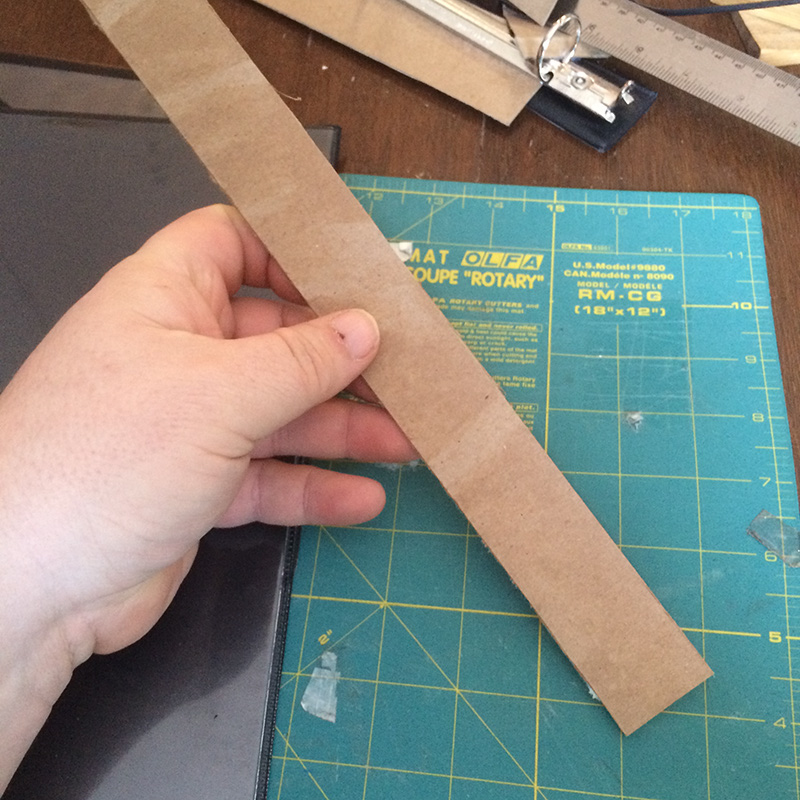 .
3. First assembly. No black duct tape at Lowes, and I didn't feel like running to another store to find it, so I settled for purple. I aligned the two nice covers with the shim between, then I just ran a strip of duct tape over them. It worked a champ. The duct tape has to be trimmed at the top where it covers the plastic sleeves on the front, but that can wait.
.
4. Notice the fronts of the hinges haven't been taped yet. I wanted to do a test fold and - disaster !! Oh noes! The interior pockets, which I planned on using to store AARG character sheets, Adventure Notes, and GENERALA pre-gen characters, were folded snug against each other. There was no space for the pockets to hold anything! Stupid, stupid Steveo!
.
5. I was unable to salvage the other 3-ring clip backing, so I ended up making a couple shims out of triple-thick chipboard. These were a little less than half the width of the main spine to accompany the hinges. Also, alignment is very important! Fortunately, duct tape is movable for the first few days.
.
6. All hinges taped front and back (the front tape goes on last, wrap it over the interior so you have no ugly end pieces on the front of your screen) and cut where they need cutting to make the pockets and fronts work. Test fold works!
.
7. Sits nicely when folded.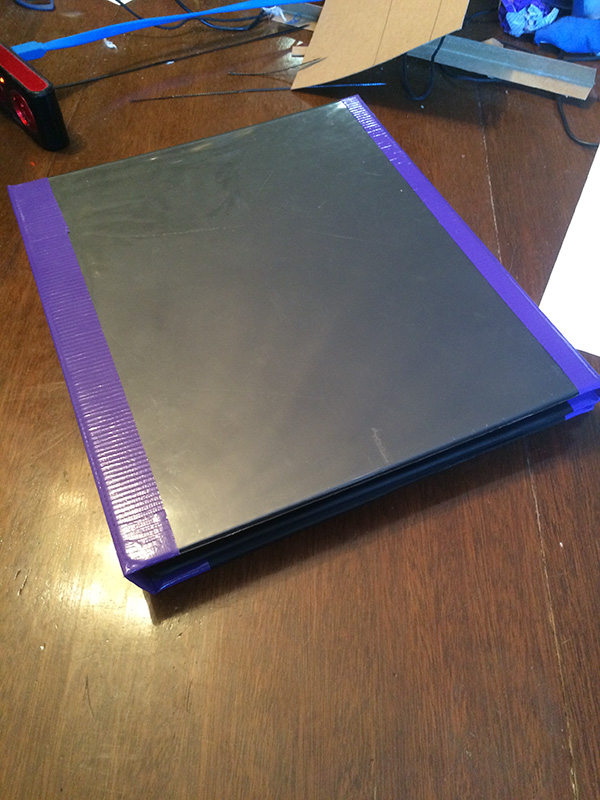 .
8. It's not as pretty from the interior, but it doesn't have to be. Stands up nicely!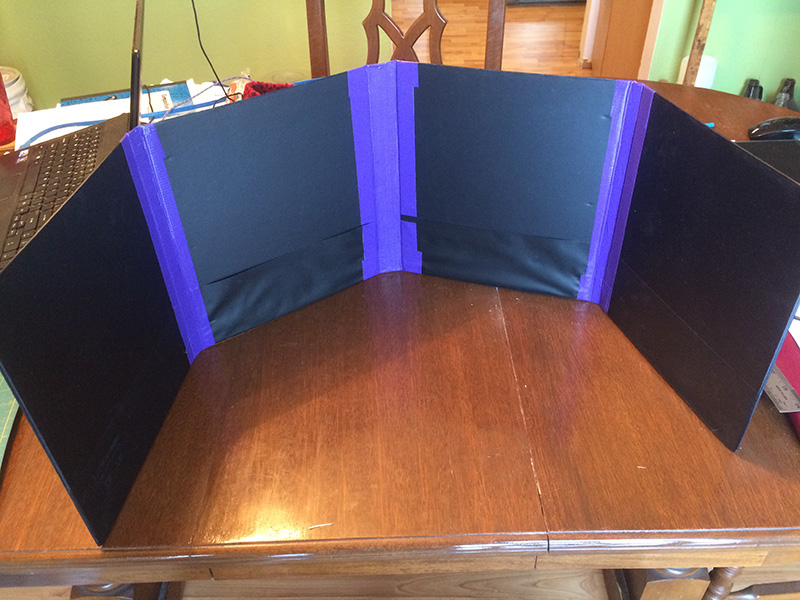 .
9. I put the pieces of the original D&D screen in the pockets just for fun, then decided I liked them there. It gave a nice dopey irony. But something was still missing ... hmmm. After a bit of pondering over AARG attack types and combat modifiers and GENERALA poison charts, I decided that what would be most helpful to the players is a friendly reminder that they're in good hands.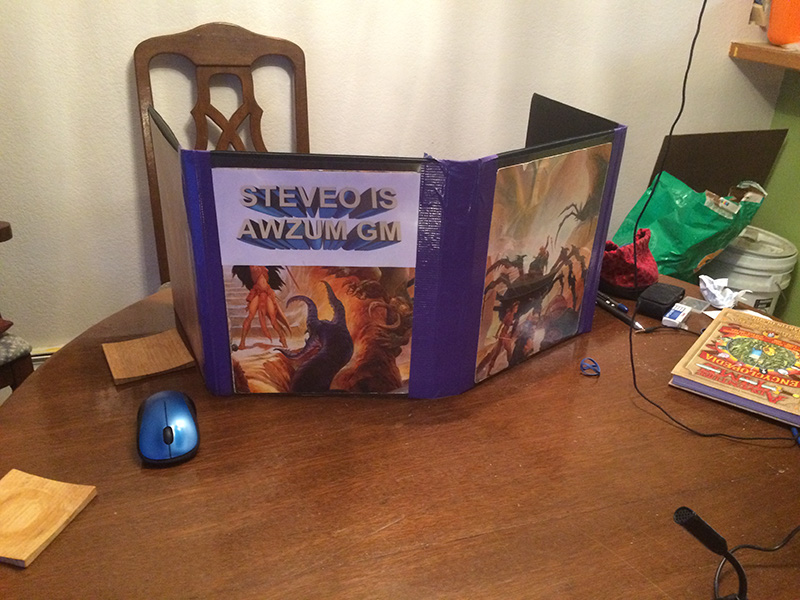 Perfecto! Suits its purpose, doesn't look too bad, And cost me a grand total of $4 for the duct tape!
---